Its been about a year we last saw Game of Thrones, the final season is right around the corner. We got to glimpse through the release of the first trailer for GOT season eight and we dissected the trailer to make sense of the scenes and understand the possibilities that we might witness in the final season. The trailer opens with a frightened Arya Stark zigzagging through the dark tunnel, running from something that seems to be doggedly chasing her. The scene carries a terrifying overture with the growing uncertainty about her fate.
"I know death," says Arya, while flourishing the dragon glass. "He has many faces. I look forward to meeting this one." As we have seen earlier, Arya's been in the company of those who worship death; it will be interesting to see her go tête-à-tête with the actual dead nightwalkers.
These troops look like the Golden Company, a band of Essosi mercenaries known for never breaking a contract. In the books, the Golden Company has a long lineage born out of the Blackfyre Rebellion, a Targaryen civil war that took place about 100 years before the events of A Song of Ice and Fire.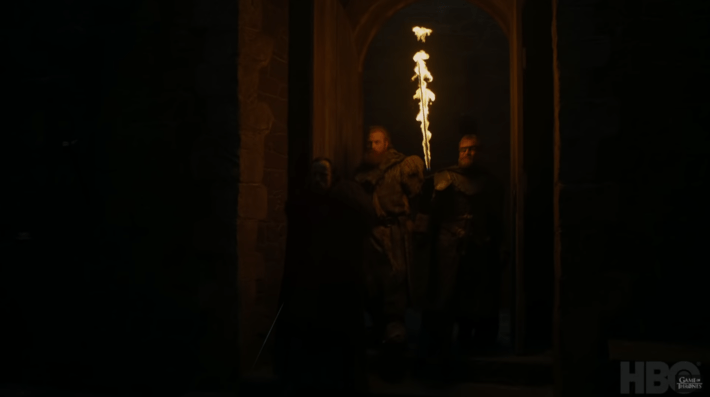 Two men who were guarding the wall had seemingly been swallowed by fire from the possessed dragon, Tormund Giantsbane and Beric Dondarrion. Turns out they escaped, I guess, and here they are standing with the torches in the Winterfell crypts.
It's Cersei, giving a wry expression at the fact that all the other characters have to deal with the White Walkers, while she hatches her plans in the parallel territory.
Sansa looks with awe at Daneaeres' children. Learning to cope with the fire-breathing creatures that can't be expected to abide by the moral rules of Winterfell
An army needs new dragonglass weapons that can be used to defeat white walkers, and it just so happens we've got a character who trained as a blacksmith his whole life. Here's Gendry gearing up to make his presence felt.
Brienne of Tarth fighting a bunch of nightwalkers around plumes of fire.
Jaime Lannister has joined the other team, has he? To see him fighting illustrates a one-of-a-kind character arc.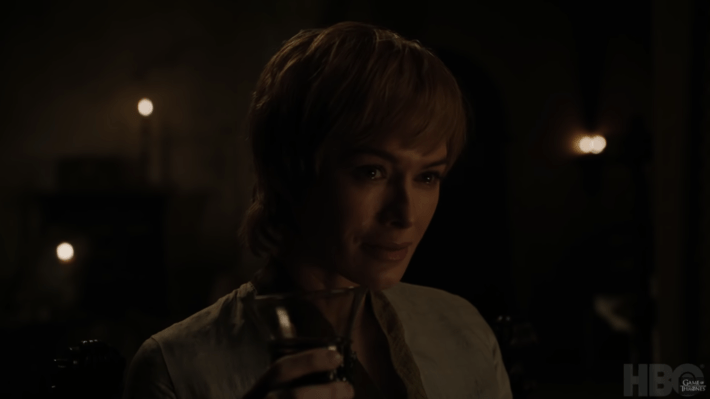 A loss of pregnancy could be implied by the wine sips but if one would remember the win glass sips with that mirthless smile are always followed by some catastrophe that she helped trigger.
In the season seven episode "Eastwatch", Drogon let Jon Snow pet him. Whereas Drogon might otherwise burn someone who tried to a crisp. Drogon may have done this just because Jon is the son of Rhaegar Targaryen.
Jon Snow's first dragon ride would be quite a spectacle. And this scene is probably indicative of what fans might get to watch in the episode.
The trailer closes with some long and wide shots of supporting characters that were assumed to be dead.  Here are Brienne and Pod still standing strong!

Game of Thrones returns for its eighth and final season on 14 April 2019